Early Reading
At Donnington Wood Infant School and Nursery reading is at the heart of our curriculum.  We see books and stories as being essential for developing children's speech, vocabulary and understanding.  We know that reading skills are the doorway for all other learning.  Therefore, we are devoted to teaching your child to read right from when they enter our school and nursery.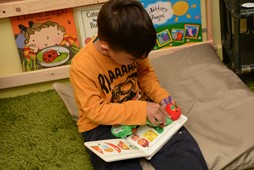 'There has been a sharp focus on reading, including in the early years. Leaders have made sure that the love of reading is at the heart of the curriculum. Younger pupils use their phonics knowledge to read confidently. Teachers carefully check the phonic sounds that children know. Staff provide effective support if children fall behind. Leaders acted swiftly to make sure that the books children read contain the sounds that they know. They have ensured that children know and love a variety of stories and books.'                                                                                     Ofsted monitoring visit June 2021
Phonics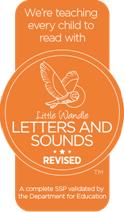 Phonics is a method of learning to read.  It starts in nursery with children taking part in games and activities which focus on listening and identifying sounds: in the environment, with instruments and with voices.  This is key preparation for learning to read and phonics teaching in school builds on these activities.
Phonics works by breaking each word up into individual sounds before blending those sounds back together to make the word.  Children learn to
'decode' words by breaking them down into sounds rather than having to memorise thousands of words individually.  It can seem very complicated. 
We use 'Little Wandle Letters and Sounds' to teach phonics. For more information about phonics and Little Wandle click here.
In the English language there are 44 sounds in total and from Reception our children are taught these sounds through a systematic phonics programme called 'Letters and Sounds'.  Children are taught each of the 44 sounds, how to tell the difference between them and how to use them in order to read words.  The programme is organised into six phases, which builds on the skills and knowledge taught before.  It carries right through to Year 2.  This approach has been shown to provide a quick and efficient way for most children to learn to read words on the page fluently and accurately.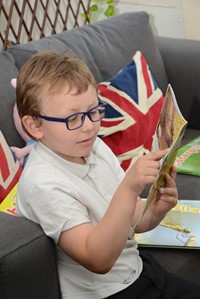 We actively encourage our children to make connections between what they have learnt in phonics lessons in other lessons, with teachers encouraging them to use their sounds, not just when reading, but also for listening, spelling, writing and speaking.  We encourage you to support your child in practising their phonics at home as a way of improving their reading.  This can be through identifying sounds learnt when reading or being read to, recalling sounds by using the prompts in the middle of the children's reading journal, or using an online game such as Teach Your Monster to Read (teachyourmonstertoread.com), or Read with Phonics (readwithphonics.com).
At the end of Year 1 all children take a compulsory assessment called the Phonics Screening Check.  It is designed to make sure that children have developed phonic decoding skills to an appropriate standard. The check is designed to make sure that the children are ready to progress into Year 2.
Reading
Reading is the foundation of all education.  When children can read, other subjects become available to them and independent learning can begin.  It is a skill that children will use every single day for the rest of their lives!
'Love of reading'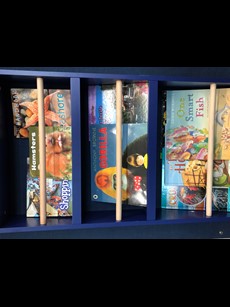 We want our children to develop a life-long love of reading and we introduce children to a wide range of texts right from the start of Nursery through to Year 2.  The texts are chosen carefully, providing a variety of genres from traditional tales, poems and rhymes, well-loved stories, information books and new stories not heard before. The books also cover a range of interests, cultures and online safety. Children often have favourite books that they look at time and again, learning the words off by heart.  Through daily story times across school, we introduce children to texts that may be too challenging for them to read, however this encourages them to encounter more demanding sentence structures, vocabulary and themes. 
Sharing stories with children, alongside the teaching of phonics, builds children's reading capabilities.  It allows children's ears to tune in to the structures and patterns of stories, with adults modelling how to read with fluency, expression and enjoyment.  It provides opportunities for talking about stories and words, considering meaning and helping children to understand and build imagination.
Reading books
We have a range of reading books for use in school and at home which complement and support our approach to phonics and early reading.  All reading books, when children are first learning to read, are fully decodable (can be read just using the phonics skills a child has learned) and are closely matched to your child's phonics learning.  Gradually, as children become more fluent readers the level of challenge increases.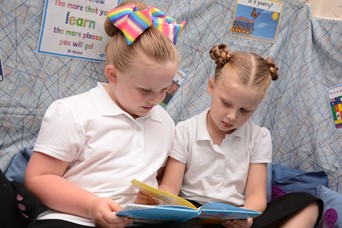 Guided reading sessions take part daily in school and work alongside our phonics lessons.  Here we explicitly teach children how to apply their phonic knowledge in order to read texts.  Books are carefully matched to children's phonic abilities and they work within an adult-led small group to read together.  Other opportunities are taken throughout the day for some children to have one-to-one reading with an adult.
Our guided reading sessions are also used to develop children's understanding of what they have read.  It is important for us to teach this explicitly to children so that we know that they can access information when reading independently, which is a vital skill in learning.  These skills are developed from the early stage of reading and get progressively harder as children's reading skills and levels develop.
Home Reading
We have an extensive library of home reading books which goes from the very early stages of reading upwards.  Children are able to choose a book from the colour band matched with their phonic ability to read at home with parents.  Reading journals are provided to record reading that has taken place at home.  We encourage children to read at home daily with an adult.  Their books can be changed daily or re-read in order to build fluency.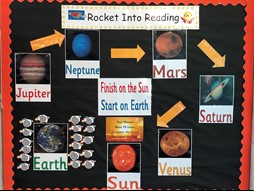 Children earn prizes and certificates for regular home reading.  We operate a Rocket into Reading Challenge where for every 10 reads a mini prize is given, and for 70 reads a book prize and certificate are awarded.  A Rocket into Reading Challenge map is displayed in each classroom, with the children able to track their progress with personalised rockets travelling around the galaxy!
Staff are available at the end of the day to discuss any reading issues you may experience or you can contact your child's teacher using Tapestry.