Times of the School Day
Full-time school
  8:40               School doors open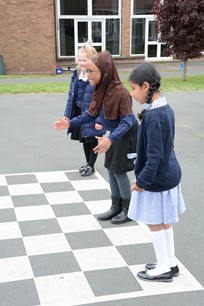 8:45               Registration 
  12:00 – 1:00    Lunchtime
  3:00               Home Time
It is expected that all children be brought to, and met from, school by parents or a responsible adult.
At home time parents are requested to wait outside the building not in the corridor or entrance hall.  Children in Years 1 and 2 (Class 1, 2, 3 & 4) are collected from their outside classroom doors (parents are asked to wait on the playground). Children in Reception (Class 5&6) are collected from the bottom doors.  The teachers will make sure that your child is safe. Please notify school immediately if there is a change in the person collecting your child. We will not hand over any child without parental consent.
Nursery
  8:30     Nursery morning session 
  11:20    doors open for collecting children
  11:30    morning Nursery session ends
  OR
  12:15    Nursery afternoon session 
  3:05     doors open for collecting children
  3:15      afternoon Nursery session ends
30 hour Nursery children are supervised 11:30 - 12:15 by lunchtime staff. 
If your child is going to be absent for the day due to illness, please phone the school before 9:00 to let us know.