The Governing Board of Donnington Wood Infant School & Nursery consists of a group of people who have a range of skills and experience. 'Governing Boards are key to the effective accountability of the school and ensuring children and young people reach their potential'. (NGA 2020).
A governing body has the following three core functions: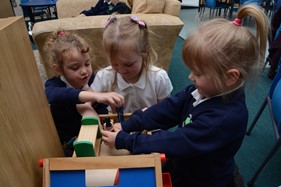 Ensuring clarity of vision, ethos and strategic direction.
Holding the executive leaders to account for the education performance of the organisation and its pupils and the performance management of staff.
Overseeing the financial performance of the organisation and making sure its money is well spent.
Please click on the links below to find out more about our Governing Body.
'Governors are fully involved in checking on the well-being of leaders and holding them to account for their curriculum plans. Changes to the governing body have meant that governors have the expertise to ask the right questions. They know in detail the content and quality of remote learning and the reasons why work has been adapted, for example in physical education. They have regular links with senior leaders for English, mathematics and SEND. Governors are assiduous in ensuring that the safety of all pupils, including the most vulnerable, is a standing agenda item on all their meetings.'
OFSTED March 2021