At Donnington Wood Infant School Nursery our aim is to create an EYFS learning environment and build relationships which support, enhance and invite a child's curiosity, confidence and individual competency to flourish regardless of backgrounds, circumstances or needs.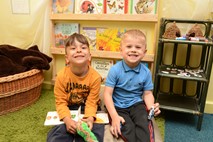 Growth and development stems from firm roots of happiness and first hand experiences and this is the basis of everything that we do. Learning happens through a balanced provision of child-initiated free choice play and adult led activities.
We aim to work collaboratively with parents and carers to encourage independent, enthusiastic learners who thrive and reach their full potential. It is our intent that children who enter our EYFS begin their lifelong learning journey by developing physically, verbally, cognitively and emotionally whilst also embedding a positive attitude to school and a love of learning.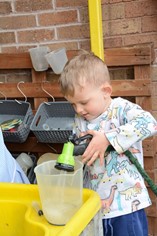 'The early years foundation stage has improved since the last inspection. Leaders have focused on developing a smooth transition from Nursery to Reception. Teachers quickly spot children who have gaps in learning and address these quickly. Children in Reception now achieve well. Their curriculum is well sequenced to help them understand and remember their learning. Children are now much better prepared for the challenges of Year 1.' (Ofsted monitoring visit June 2021)
 EYFS lead - Mrs A Hannington
Use the links below to find out more about learning in EYFS -